Today I had the honor to feature on the front page of one of my favorite online publications Inman news. I subscribe to their RSS feed for both the main site and their excellent "Future of Real Estate Marketing" blog.
Both sites give me idea's for blog posts and both are great general resources for real estate professionals.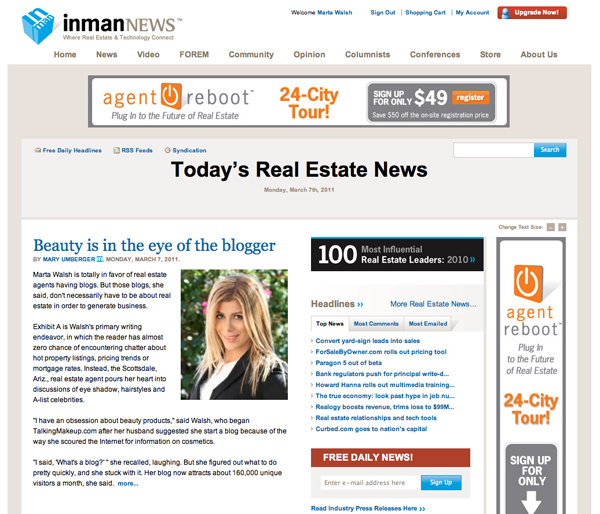 For the piece I was interviewed by the delightful Mary Umberger, a freelance journalist who has a long running real estate column in the Chicago Tribune.
"Real estate is something I've always been interested in," she said. "I never got to pursue it in New York — it was a different market, a lot bigger and a lot scarier. Also, I graduated from business school and wanted to add something to my portfolio that had to do with the art of dealing."

In addition to the closed deals, the cosmetics blog has generated other leads, she said, including calls from people who are looking for the contact information for her brokerage but call her instead because the makeup blog has come up first in their online search.

Walsh also has begun a traditional real estate blog, at MartaWalsh.com.

Read the full article at Inman News.
It was truly an honor to be featured by a site I already use as a daily resource and some of the comments are very heart warming.