I was grabbing a quick coffee this morning and saw this.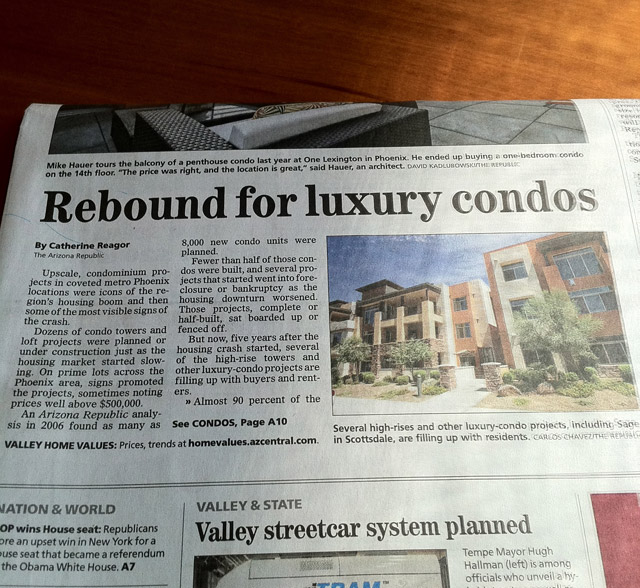 Sentiment is a funny thing and it can change quite fast. John Maynard Keynes coined the term 'animal spirits' in regards to speculation and consumer confidence.
If you want a very detailed read on the subject try Paul Tetlock's "Giving Content to Investor Sentiment:The Role of Media in the Stock Market"
I quantitatively measure the interactions between the media and the stock market using daily content from a popular Wall Street Journal column. I find that high media pessimism predicts downward pressure on market prices followed by a reversion to fundamentals, and unusually high or low pessimism predicts high market trading volume.

Full paper at Columbia.edu
So why is the Arizona Republic in such a chirpy mood?
Well open capacity is filling up. Builder units in large apartment building are starting to sell. One of the reasons is the swathe of distressed sales are no longer bogging down the market.
Scottsdale Waterfront Residences now has only 2 distressed properties for sale and one of those is under contract currently. The builder units at Optima Camelback even saw a price raise in the multiple listing service, thats a sign that now the short sales are clearing out the builder can once more get back to charging a premium for their units.
In general I like good news more than bad. But of course the media is always slow to report good news. Maybe we'll have good news for the economy. Good news for real estate. And hopefully just more good news in general 🙂