An interesting article today in the WSJ about the current state of down payments in the mortgage market.
The median down payment in nine major U.S. cities rose to 22% last year on properties purchased through conventional mortgages, according to an analysis for The Wall Street Journal by real-estate portal Zillow.com. That percentage doubled in three years and represents the highest median down payment since the data were first tracked in 1997.
Obviously for a lending bank its a much greater sense of security for them if the buyer is bring a significant amount of their own cash to the close. But it raises affordability issues for average families.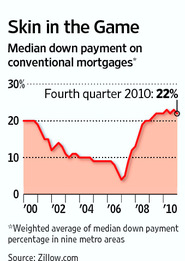 Interestingly this looks almost like a mirror image of home sale prices over the same period. With some blaming the lax lending standards and people bringing no money to close fueling the housing bubble.
According to stats from the ARMLS the average sale price for North Scottsdale in the last 6 months was over $600,000. So to qualify for a conventional loan buyers should be looking to have upwards of $120,000 in cash, which is quite a stretch for many and may price some people out of the market.
One other option that buyers might be considering is financing via the seller. Three main option exist in this area, lease with purchase option, lease purchase and owner carry. These options all have associated risks and advantages. If you are considering buying a home but do not feel you have enough down payment please feel free to connect with me to discuss options such as owner carry.