The Case-Shiller house price index is released on the last Tuesday of every month and provides a measure of house prices in 20 major markets. One of the markets measured is Phoenix.
The sample area includes all of Maricopa and Pinal Counties so it includes cities such as Scottsdale, Paradise Valley and Carefree, Arizona.
"In a welcome shift from recent months, this month is better than last – April's numbers beat March," says David M. Blitzer, Chairman of the Index Committee at S&P Indices. "However, the seasonally adjusted numbers show that much of the improvement reflects the beginning of the Spring-Summer home buying season. It is much too early to tell if this is a turning point or simply due to some warmer weather.

Full Analysis From Standard and Poors
One of the really interesting things Standard and Poors does is just give away the data. You can download spread sheets of the data here.
As I am a luxury real estate agent I particularly like that they provide the data split out into price tiers. Low Tier Under $96883 Mid Tier $96883 – $168999 High Tier Over $168999. I extracted the data for Phoenix including the tiered data then using Google Docs created the following graph.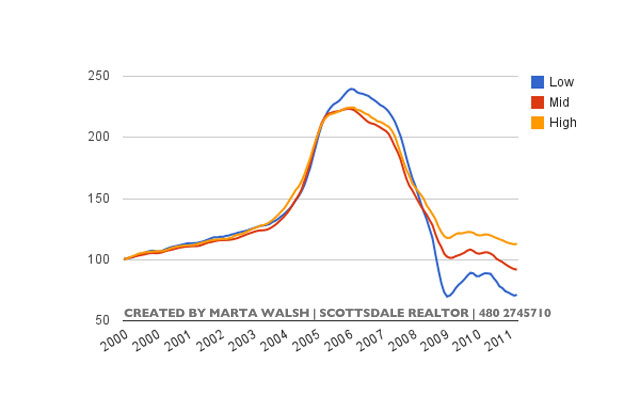 This graph confirms pretty much what everyone has been feeling on the ground.
If you look at the difference between the Low and High priced properties it's clear that the higher end homes did not carry the rocket like growth as far as the low range homes. Also the high end homes also didn't crash nearly as hard.
The so called "double dip" recession is also only really noticeable in the low end market. The homes above $168,999 seemed to do what traders call more bouncing along the bottom.
With the index showing a price rise of 0.1% for the Phoenix Metro area in April it seems like maybe the market is gearing up to turn. At this point it's hard to predict whether once the market does turn positive prices will climb quickly to match the volatility of the last 5 years or go back to more gradual market moves.
If you would like to discuss anything to do with the Scottsdale real estate market, just give me a call.