It's June. It's 113 degrees in the shade. I'm writing this blog post in my spare moments of an Open House in beautiful Cactus Acres in North Scottsdale.
Many of the clients I am meeting are melting but that's ok I still think there is value in visiting an open house even in this heat. Lucky for them I have some refreshing water on hand 🙂 Although it's fast being snapped up and the ice is melting.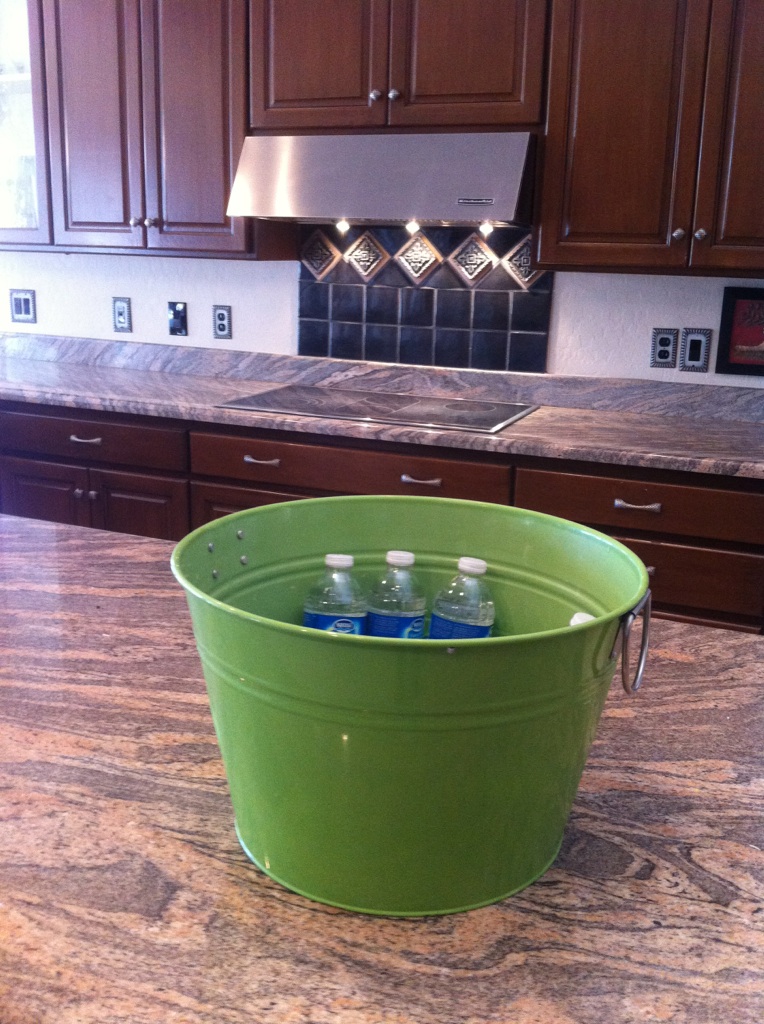 Why should I bother with open house in this crazy heat?
Well open houses work differently for different people. Another Phoenix based agent who has a very interesting blog site recently wrote a post about how he didn't feel open houses are a good idea for home sellers. I disagree, I think open houses work for both home sellers and those looking to buy.
For sellers why an open house works.
Agents: About 25% of the traffic I see to an open house is other agents previewing the home. Maybe they are working with active buyers or just want to check on the house for future clients. Once an agent has seen a house they do tend to remember it well and will bring suited clients through for a visit later.
Feedback. Sometimes you list a property is listed in the MLS and while you get some feedback from agents showing the property it is just not as useful as hearing lots of direct client feedback. Clients will point out things that turn them on or off about a property and sometimes it can be a quick fix to change. Sellers need to know this feedback.
Relatives. It's amazing in Scottsdale how many people are previewing homes for out of state relatives. They are visiting multiple open houses working to preview properties for when their relatives finally hit the ground looking to buy in the cooler months.
Luck. Sometimes the buyer just walks straight onto the lot. People are impulsive. Not everyone works with an agent and scour the MLS looking for perfect properties. One bit of luck that happened to one of my out of state clients was a leak sprang in the backyard sprinkler system, this was a big house and had big gardens. It saved them a small fortune on lost water that I was there to see the leak and let them know.
Why to Visit an Open House as a Potential Home Buyer.
Knowledge. Knowledge never hurts anyone and the more houses you see the more knowledge you gain. Before you ever work with an agent to drill down to what your perfect home is I suggest touring some in the neighborhoods that interest you. It doesn't take long to spot homes that are over priced or to work out what type of features really interest you.
Agents. There's a lot of real estate agents out there and that gives you plenty of choice of who to choose when buying or selling a home. A good way to meet the person who you might like to list your home for sale or view properties to buy with is to meet them in person. Check the materials they hand you, their local knowledge if they are friendly and helpful. The best way to see how good someone is at their job is to observe them doing it.
Tips to Survive Summer Open House in Scottsdale.
These tips are a bit like how to generally survive the desert inferno from June to September.
1. Bring plenty of water. I have bottled water for visitors but not all agents will, so make sure you bring plenty of your own. Nothing will melt you faster than dehydration.
2. Park in the shade if possible and remember to crack the window a little.
3. Leave dogs at home. It's too hot to leave them in the car and they can be distracting when touring a home.
4. Bring your swimming stuff and jump in the pool at every house. Ok that one is a joke but I have seen many clients very tempted.
Visiting an open house in summer or having your agent run one while you are on vacation can be a great idea. Just try to stay cool in the heat 🙂
One of the reasons I don't mind open houses when some agents think they are a waste of time is that I have full office capabilities with me at every open house. I have my Mac book pro tethered to my iPhone so I have full Internet access and phone. I must admit in the old days of real estate when all you had was a book that would be a bit of a problem.