I am only spending a few minutes inside today, to write this blog post. The weather is perfection.
Full sun, perfect air temps, and slight breeze.
This is the forecast for the week.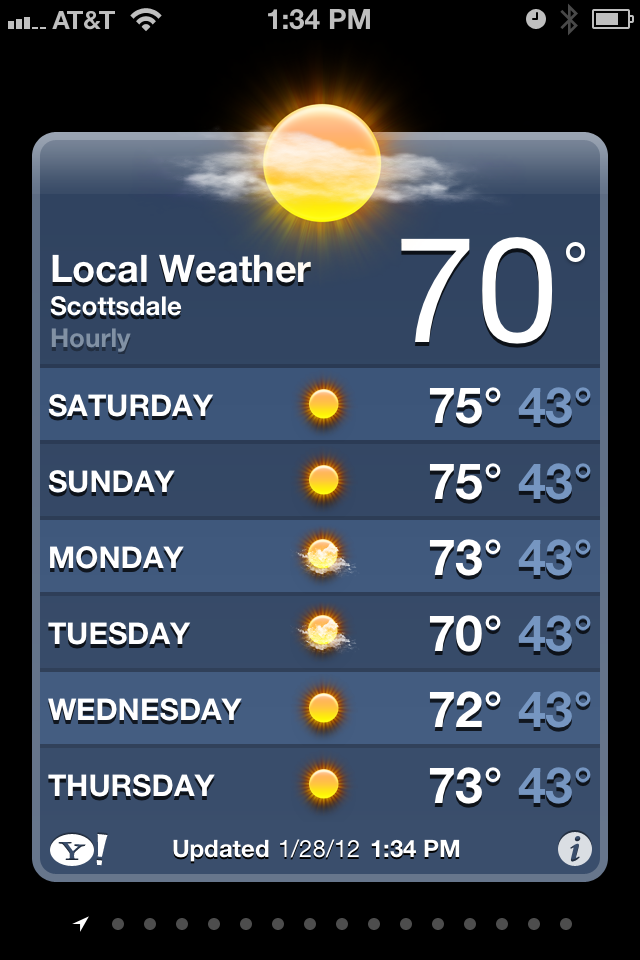 That is pretty outrageous weather for January, especially if you have lived any significant time on the East Coast.
Places To Go To Take Advantage of the Amazing Weather
Climb Pinnacle Peak: If you like hiking but maybe are not quite ready for the physical challenge of Camelback then the less strenuous Pinnacle Peak may be perfect. It's much more of a walking trail with incline than the clambering and climbing of Camelback. The views are amazing though.
Parking is much easier also. Just Take Happy Valley Road east to Alma School and follow the signs. If you get to the Four Seasons you've gone too far.
Live Music At The Hyatt: Cocktail hour on the lawns of the Hyatt Regency at Gainey Ranch is always an amazing time. Great music, stunning hotel lobby and yummy drinks. My advice just go for drinks, the margarita's are particularly nice and listen to the music. Dining options in the Hyatt are not as strong, but it's a quick drive or cab ride to Houston's or Cowboy Ciao.
Kierland Commons and Scottsdale Quarter: Nowhere does outdoors shopping better than Scottsdale. And now the two powerhouse developments straddling Scottsdale Road have had a convenient and well designed pedestrian link added to connect them. Great dining options, amazing retail and stuff for the kids to do like sprinkles and Barnes and Nobles.
Crackerjax Family Fun: All families seem to love Crackerjax. It's outdoors in the sun. There's mini golf, baseball, go-karts and more. Price is quite reasonable even for a larger family. Another place to skip the food though, my recommendation is to drive a short way down Scottsdale road to Sauce Pizza, good simple pizza and pasta for families.
Get Outside
The main thing is get outside as much as you can. It's just gorgeous. Evening temps in the 40's do require a jacket and heaters for patio dining. There's so much to do in Scottsdale, just enjoy the weather 🙂