This question is addressed on Time.com today. Some of the points in the article ring true for our area but some points are just not correct in this market. Real estate is hyper local.
The best day of the month to make an offer on a house is the first Tuesday. Why early in the month? Because the homeowner just wrote a mortgage check for a house he no longer wants – or needs to sell — and he doesn't want to write another one. Why Tuesday? Because by Tuesday he's starting to worry that he won't get any offers from house hunters who saw the house the weekend before.

Full article on Time.com
One of the tips from the article is that the best time to list your home is spring. That's a national statistic. I did my own research for the Scottsdale market.
  When Is The Best Time To List Your Scottsdale Home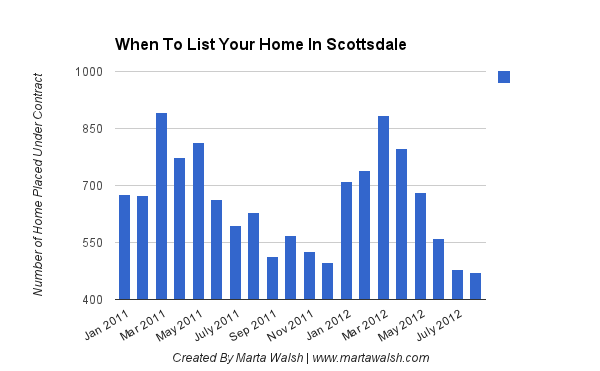 In 2012 and 2011 the month where most homes were placed under contract in Scottsdale was March. So you absolutely want to be listed during that month.
Given it takes some time to sell the average home I'd say the best time to actually bring a home to market would be late January or early February. That way marketing materials have had time to penetrate the market in time for the busiest months.
Of course the actual answer to when to list your home is really when the time is right for you. And don't fret too much on the numbers. The busiest month from my research was March 2011 with 891 placed under contract but that was only 48% more than the lowest month. Homes do sell all year long.