It's getting hot! But there is still a lot of real estate transactions happening. In fact with inventory declining in North Scottsdale now may be a very good time to list your home for sale.
That being said it takes a bit of planning for buyers to view homes without melting.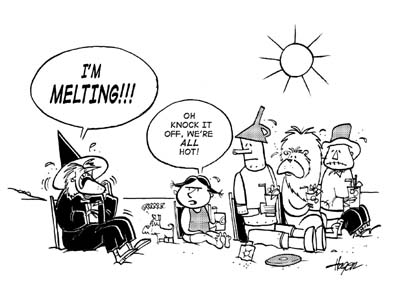 Here are my top tips for Buyers to survive the heat.
1. Check the weather forecast. There a big difference between 95 degrees and 110. Work with your REALTOR to pick cooler days.
2. Seeing lender owned properties? These are vacant so you can see them any time of the day. They also don't have utilities on so no AC so arrange to see any of these properties in the morning before it heats up.
3. Don't try to see too many properties at once. Be selective. Ask your REALTOR to preview some homes and only show you the ones that really match your search.
Lastly make sure your REALTOR brings plenty of bottled water.
Now is a surprisingly good time to make a deal. If you find a home thats been on the market for 100+ days the seller is well aware that their home didn't sell in the prime selling period for real estate in Arizona. Bring an offer and maybe you can get a great deal done at a great price.