Today I have 2 images that go some way to proving that real estate market trends are  local.
The first image is the front page of CNN today.
National Median Houses Price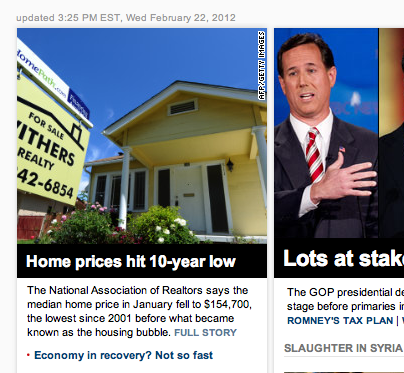 The numbers come from the National Association of Realtors and show that country wide the housing decline is still not fully played out.
However, local is as local does. Scottsdale is not following exactly the same curve.
One reason is the national median price in January 2012 was $154,700. The number in Scottsdale is significantly higher and different market segments were affected differently by the downturn. You can't buy much house in Scottsdale for $150,000.
Scottsdale Median House Prices
The bottom for Scottsdale looks to be in at November / December 2011. With quite a bump since then.
Conclusion
Real estate is local. Don't necessarily measure your buying and selling decisions based on stories in national media because it probably doesn't reflect what is happening in your own neighborhood.