The Cromford report are reporting total inventory now at 3.5 months supply. Where the normal range is considered 3.5 to 5.5 months of supply.
Prices have risen recently because the months supply was below the norm. Less houses to choose from equals higher bids on the good ones. However these price rises have on a low number of actual closings. Still finding a volume of qualified buyers is a challenge.
Paradise Valley Real Estate Statistics
Let's look at the Paradise Valley market to see how things have changed.
The first thing to notice was just how much total sales was affected by the downturn.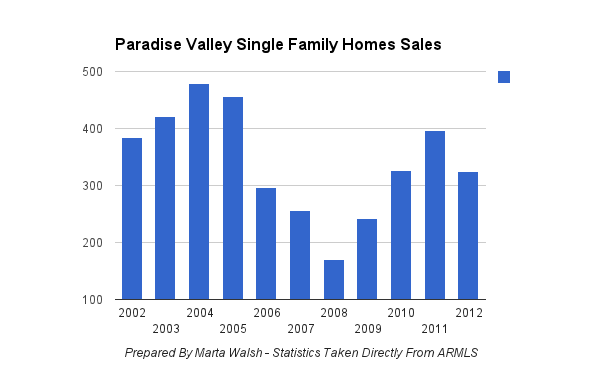 This chart shows in a more normal market Paradise Valley homes around the 400 mark. With 4,736 single family homes that represents 8.5% of homes each year.
2011 and 2012 certainly looking like demand is normalizing for PV. For Paradise Valley so far this year average monthly sales of single family homes has been 32.8.
As you can see median prices have already given back a little of the gains from the bottom. But I don't see prices dipping below the bottom that was recorded in Q1 of 2011.