While I'm waiting for Bravo's MillionDollarListing Season 4 to premiere Thursday, February 3rd, 2011, and watch my Malibu REALTOR inspiration Madison Hildebrand I've discovered Selling New York on HGTV. It is the New York City version of MillionDollarListing. Naturally I love watching anything to do with Real Estate and luxury real estate because I'm so passionate about my career and industry.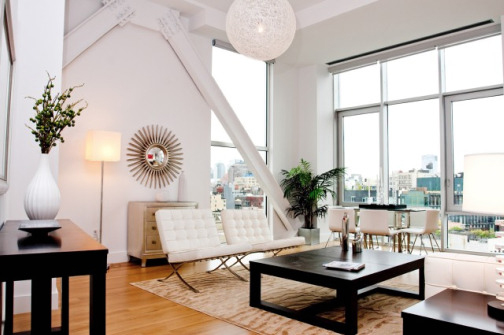 Staged and decorated to feature contemporary yet comfortable furnishings, this model apartment's living room at a new development in the Bowery district..via frontdoor.com
My favorite stars Shaun Osher president of CORE group and his team and Michelle Kleier president and chairman of Gumley Haft Kleier and her team are quite impressive and inspiring. Selling New York makes Marta Walsh your North Scottsdale REALTOR miss her hometown New York City. It also fascinating to see the differences in the real estate market between New York City and Scottsdale. Maybe one day there will be a show called: "Selling North Scottsdale" or "Selling Paradise Valley", secretly, I can't wait.