Such a bold claim in the title today 🙂 But I think it really makes a lot of sense.
On Friday AOL Real Estate (One of the better real estate consumer portals) ran a story discussing the impact of professional real estate photography on a a listing for sale.
A study published last fall by Redfin, a Seattle-based brokerage firm, found that high quality photos shot with an SLR (single lens reflex camera) can increase the final price of a house between $934 and $116,076, compared to those shot with low-end cameras. But the company also found that only about 15 percent of real estate listings are using any higher end photography.

Andrew Mayon warns that even an expensive camera in the hands of an amateur can yield poor results. "I tell people a fancy camera does not make you a photographer," he says. "Just like having an expensive pen doesn't make you Shakespeare."

Read the full article here.
I decided to do a very small bit of market research myself. I conducted an MLS (Multiple Listing Service) search in the Town of Carefree to see how many REALTOR's in my local market were utilizing the services of a professional photographer.
I chose the Town of Carefree rather than Scottsdale or Paradise Valley just to keep the number of properties a little more under control. I searched active properties valued between $1,000,000 and $1,500,000. So these are all luxury properties and in my opinion should be being marketed to a very high standard.
The findings:
19 active listings.
8 with professional photographs in MLS.
11 with amateur photographs in MLS.
So thats only 43% of properties in the Carefree market priced between 1 and 1.5 million dollars being marketed with professional photographs. The majority of REALTORS decided to save the expense of pro photography. I wonder if they would spare the expense on their own home?
Personally I never use anything other professional photography. I do have a Canon digital SLR which I sometimes use to take additional photography for color on blog posts such as this. But the main listing and virtual tour it is imperative that it is professionally done.
Also I prefer to order the dusk time pictures for almost all properties. This is the more expensive option but produces the best mix of daylight exposures and night time ones, it's more expensive because the photographer only has one slot per day available for the service.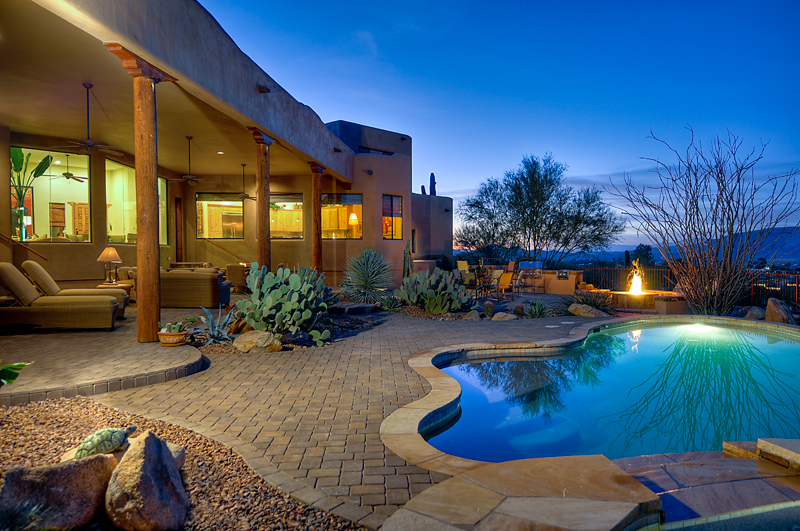 If your house is listed at over $1 million and the photography is not professionally taken twilight pictures you can always ask your agent to order new pictures to reinvigorate the listing.