That is always true. According to a 2009 NYU study, my old school, people make 11 decisions about someone in the first 7 seconds. Source.
Real estate is no exception. That for me as an agent means many things, how I make a first impression with my online presence, when I first meet a client in person, when I first send an email.
As a home seller you also get only one chance to make a first impression. On potential buyers or to their buyers brokers. Because overcoming the negatives of a first impression is extremely difficult it's far, far better to just get the first impression right.
Selling Your Home | First Impressions
When you decide to sell your home you are making a mental decision to turn it from your home into a product. A consumer product. Something that will be judged against other products in a marketplace.
Just yesterday Apple launched the new iPad. The buzz was palpable. Tweets from the live event, blog posts, analysis of future real world applications. This was just in the real estate vertical that I follow, no doubt there was also a similar buzz in retail, education,  healthcare circles.
Nothing Apple did yesterday wasn't perfectly pre planned, considered and executed. You have exactly the same opportunity when deciding to sell your home.
What Makes a First Impression When Selling a Home?
Well many small tings add up to one first impression.
Staging. Price. Listing broker. Location. Photography. All these things can add to the first impression of buyers.
Here's why it's important to make a good first impression with your homes selling price.
Making a Good First Impression in the MLS
My number one tip for sellers is don't let your agent put your home on the MLS before the product is 100% finalized and ready to go.
Less Haste, more speed.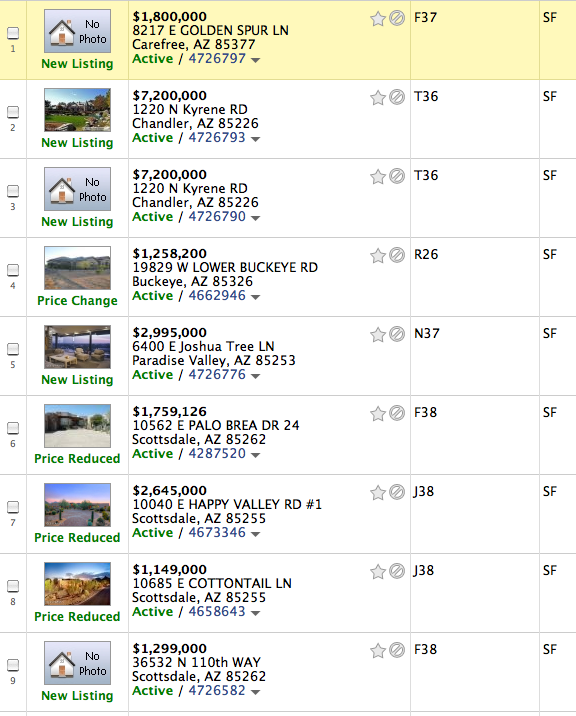 These are million dollar homes. Where the marketing and delivery should be impeccable. The homes with no photo are not ready to be added to the MLS. They've been added anyway. That is my first impression, no photo's.
You often see in the MLS notes.
"Temporary photo's. Professional ones to follow."
Another bad first impression.
The damage caused in rushing to market with an imperfect listing is significant.
This is how agents use the MLS. We are checking for what's new. What we haven't already seen.
What's recently changed moves pretty fast. Price changes, new listings, status changes.
Timeline To Sell
Bring your product to the market with a plan. Discuss with your agent your timeline to sell. Ideally give your agent a full 7-10 days to bring your home to market. Consider it as a consumer product the packaging must be right from the start.
Don't rush to make a bad first impression.