So you might of heard that 74% of people use the Internet in their home search. That's an old number and hard to believe it's not closer to 95% by now.
So everybody is online searching for homes to live in but what market dynamics can we draw from this. Luckily Google shares some of it's data.
What Does Internet Search Tell Us About The Real Estate Market?
The market is down. We all know that. But it's not just prices that are down. Interest in  real estate is down.

This charts shows search volume originating from the Phoenix Metro Area in the Real Estate category.
You can see the seasonality. You can see the crash. Interestingly this search volume was a leading indicator of the the real estate market. Search volume peaked in the 3rd quarter of 2005 where as the market prices topped in the 4th quarter of 2006.
Obviously this is just one example and we don't really have data going back far enough to see whether this will be a useful leading indicator moving forward. My guess is that it will. Right now it is not predictive of a recovery just yet.
What's Hot Right Now?
One word. Renting.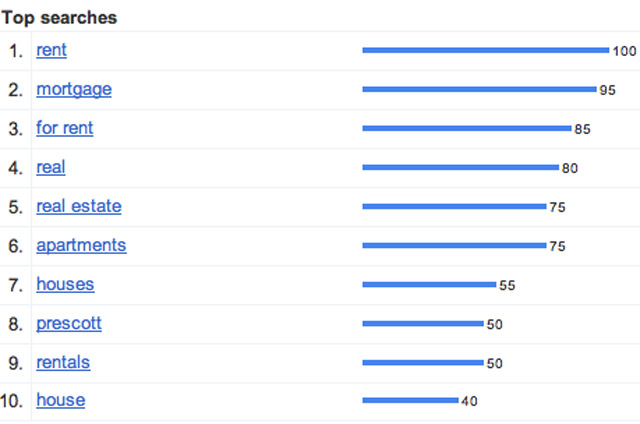 It seems Prescott, AZ is one market to keep an eye on. Interest in that city is up!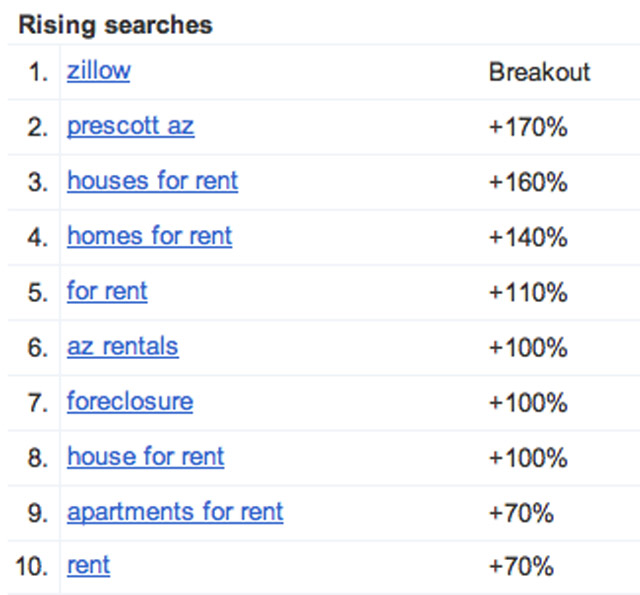 I think the reason Zillow is doing so well locally is maybe people using their Zestimate to work out the price of their home. Possibly they are considering refinancing at a lower rate or maybe even short-selling their home if underwater. Zillow reports they have an 8% margin of error for our market. Which isn't that bad considering it's all automated.
I'll be keeping an eye on all of this data. There's so much to learn from these kind of numbers. Good time to be a landlord for example.