A luxury home, one over $1 million for example, takes a touch more skill to get sold fast.
Here's some reasons why.
Inventory: The Arizona Multiple Listing Service (ARMLS) does a great job of providing statistical data for both it's subscribers, such as me, and for the general public. One of their monthly statistical publications called STAT Plus and tracks housing inventory by price bracket.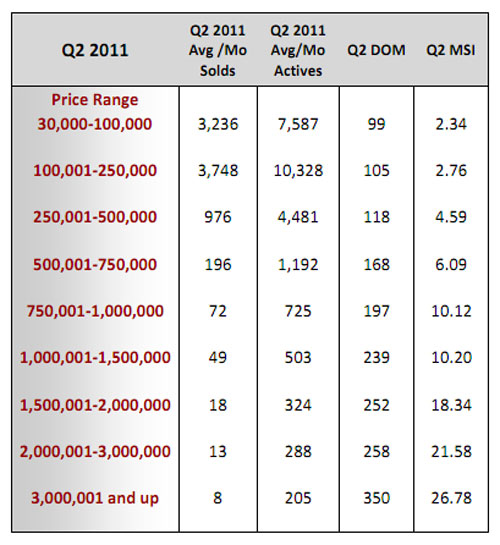 As you can see as the prices of a home rises competition for buyers attention gets tougher. Days on the market increases, and in the $3 million plus bracket there are more than 26 months of supply in the market currently.
Jumbo Loans: You may have heard that since the meltdown it's been hard for people to obtain so called Jumbo Loans. What you may not know is that a jumbo loan for the Scottsdale area (PHOENIX-MESA-SCOTTSDALE, AZ) is deemed to be any loan over $417,000 for a single family home in 2011. Relative to the price of homes in North Scottsdale and Paradise Valley that number is not very high. While there are people able to obtain jumbo loans in this market the more stringent requirements have meant at the top end of the market many deals have needed either all cash or a large portion of cash in the transaction.
Pyschology: When the current recession hit a lot of people examined things in their life. People's mindset started changing even if their job and or business remained healthy.
A New York Time article from 2009 caught the tone, that even wealthy people get caught up in the mood of the recession.
"I think this economy was a good way to cure my compulsive shopping habit," Maxine Frankel, 59, a high school teacher from Skokie, Ill., said as she longingly stroked a diaphanous black shawl at a shop in the nearby Chicago suburb of Glenview. "It's kind of funny, but I feel much more satisfied with the things money can't buy, like the well-being of my family. I'm just not seeking happiness from material things anymore." Full Article
The big house or as it was often dubbed McMansion was seen as a must have for successful families on the up, but now with friends foreclosed on for some people these larger homes can represent too much commitment and extravagance. So even among those who can afford to buy your luxury home the desire is not as strong as it once was. Everyone is just more cautious.
So What Can You Do To Sell a Luxury Home Today?
The number one way to get your home sold fast is to price it correctly. Even before you contact a REALTOR I suggest consider getting an independent appraisal done of your home. For between $300-400 you get a good idea of what a professional thinks your home is worth in todays market. While an appraisal is just an opinion of value if you use an independent appraiser rather than a REALTOR to give you a price guide for your home the price won't be affected by commissions or desire to win your business the appraiser just collects their fee and gives you their evaluation.
If you want to sell your home quickly offer it for sale for no more than the appraised amount. The more expensive your home value the higher the competition for limited buyers and buyers realize this and are very price sensitive.
A good REALTOR should be able to give you an accurate opinion on what your house will sell for but if you already have had an appraisal done you can focus on price less and their marketing abilities more.
Hire a REALTOR who can make your house stand out from the crowd. Remember ARMLS is reporting that of 1320 homes listed for over $1 million only 88 or 6.67% actually sold in Q2. There is a forest of listings. Standing out includes using exceptional photography, video and media campaigns. I suggest hiring an agent with a strong Internet presence because over 90% of all home searches start online.
For an expensive home over $1 million there are very specific search terms your REALTOR can target and drive traffic from search engines using these keywords. If you want to see how a keyword analysis would work for your home just email me a few of the benefits of your home and I will show you which keywords you should be targeting.
Here is how I can market a luxury home to sell fast.